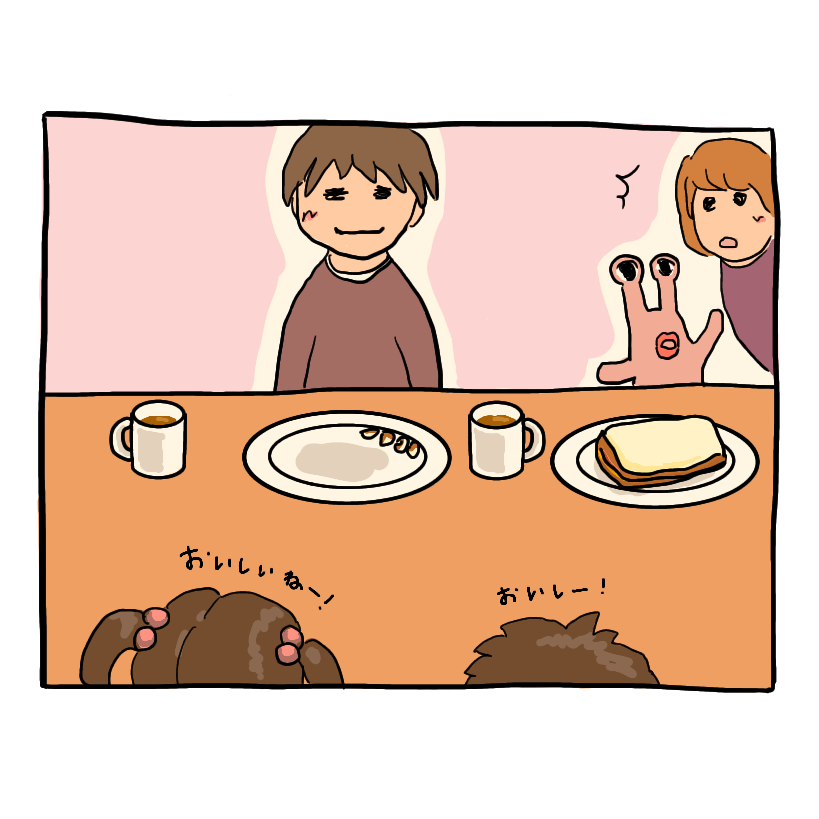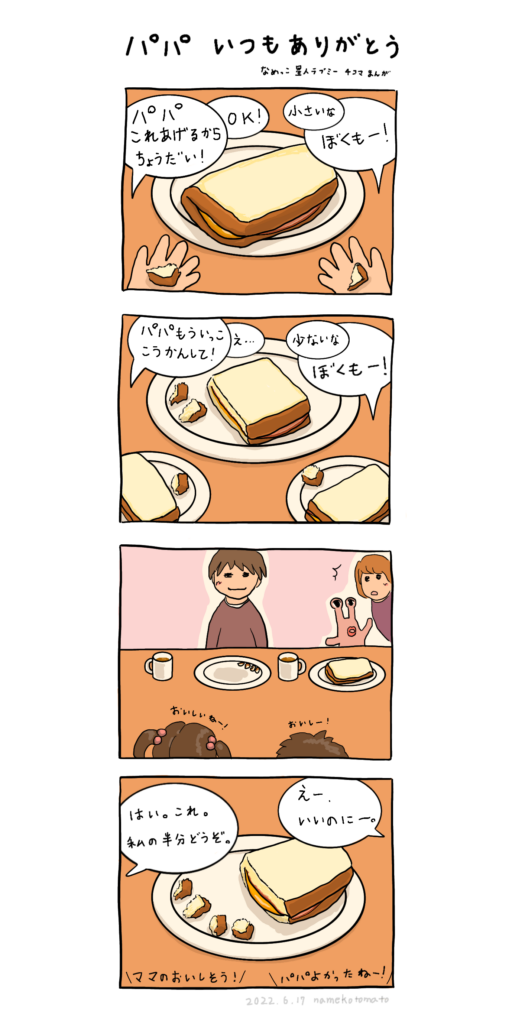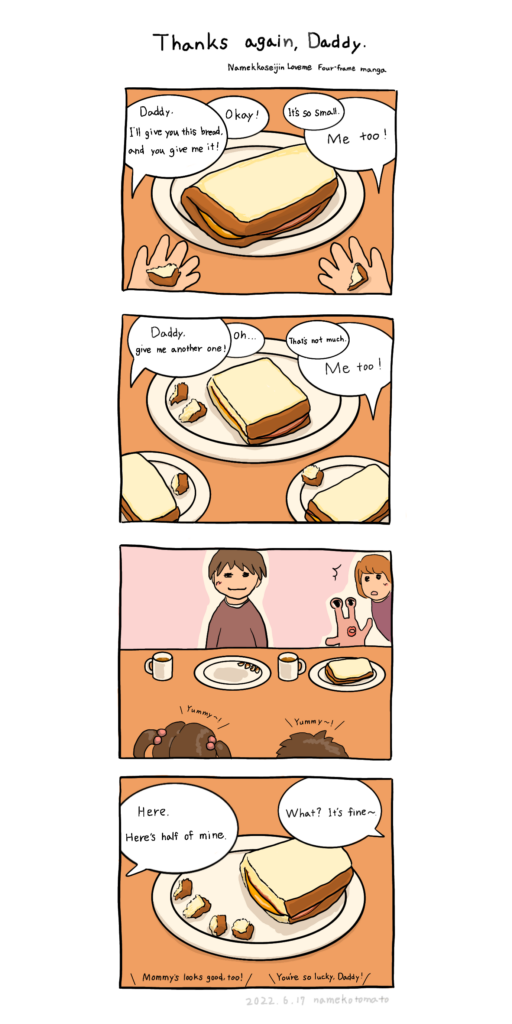 6月19日は父の日ということで…
初めて4コマ漫画を描いてみました。
亭主関白で強面のお父さんとは真逆の、優しいパパが主人公のストーリーです。 
短いですが時間がとれるときにご覧いただけますと幸いです。
(ラブミーをまだ知らない人は、まず先にこちらを読んでみて下さい。)
June 19 is Father's Day…
I drew a four-frame manga for the first time.
The main character is a kind father who is the complete opposite of a strong, domineering father.
It is a short story, but I hope you will enjoy it when you have time.
(If you haven't heard of "Loveme" yet, please read this first.)
↓ ラフスケッチはこんな感じです。(Rough sketch looks like this.)
↓ 描画動画はこちら(Click here to see the drawing video.)
日本語版(Japanese Version)
英語版(English Version)
前後以外は同じですが、日本語版と英語版の両方を作ってみました。
線の際まで綺麗に塗りたかったので、手塗りに近い方法で描いています。
どちらにするか迷ったのですが、台詞は最終的に手書きにしました。
なるべく読みやすくて可愛らしい雰囲気の文字を意識して書いています。
It is the same except for the beginning and the end, but I made both Japanese and English versions.
I wanted to paint the lines nicely all the way to the edge, so I used a method similar to hand-painting.
I was not sure which one to use, but I finally decided to handwrite the dialogues.
I tried to make the characters as easy to read and cute as possible.
■使用ソフトやアイテムの一覧(List of software and items used)
絵は違いますが、具体的な描き方や編集方法はこちらをご覧下さい。
BGMは Make a field Music さんの「足並みをそろえて」を使用させていただきました。
The picture is different, but please click here to see how to draw and edit it specifically.
The background music is "Aligning our feet" by Make a field Music.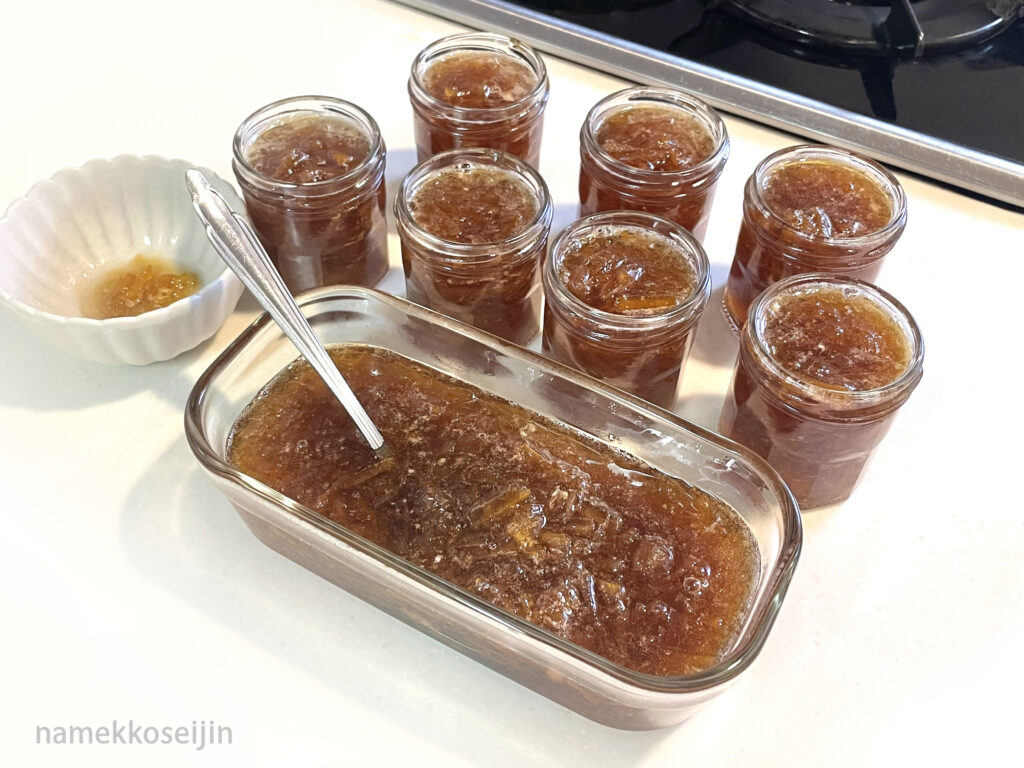 皆さんは今年、何をプレゼントしますか?
私は毎年悩むのですが、今年は手作りマーマレードをプレゼントしました。
今回は無農薬の甘夏と体に優しい甜菜糖だけで作っています。
精製されていない甜菜糖を使っているので濃い色をしているのですが、味わいが濃厚でとても美味しい。
市販品にはない良さが料理を通して伝わればいいなと思っています。
実家にいた頃は「なんで給料が高いお母さんが料理してて、給料が低いお父さんは何もしないの?」とか、
父は覚えていないかもしれませんが、酷いことを言ったこともありました。
でも今は母に認知症の傾向があり、専ら父が料理をするようになりました。
What will you give your father this year?
I have a hard time deciding every year, but this year I gave my father a gift of homemade marmalade.
This time I made it only with pesticide-free sweet summer and healthful beet sugar.
It has a dark color because of the unrefined beet sugar, but the flavor is rich and very delicious.
I hope I can convey to my father through my cooking the goodness that is not found in commercial products.
When I was living at home, I used to ask my father, "Why does your mother, who is paid well, cook and your father, who is paid less, does nothing?" or something quite terrible, although my father may not remember it.
But recently, my mother has been suffering from dementia, and my father does most of the cooking.
私が知らない減塩調理法も父は既に知っていて、とても驚いています。
初めて作ったポテトサラダなのにハイクオリティで頭が上がりません。
人生、何が起こるかわかりませんね…。
今では料理や家事を頑張る父を、陰ながら応援しています。
来年は昆布とか米麹を贈ろうかな~。
I was very surprised that my father already knew how to cook with less salt, which I did not know.
It was the first time I made potato salad, but it was of high quality and I can't stop thinking about it.
I never know what will happen in life….
Now I am cheering my father on behind his back as he works hard at cooking and housework.
Maybe next year I will send my father kelp or rice malt.
〔本日も訪問ありがとうございます〕
何かございましたら、TwitterのDM(こちらかこちら)へお願い致します。
↓ ブログランキングに参加中。クリックしていただけると励みになります。
いつも応援ありがとうございます!
Thank you for visiting me today!
If you have any suggestions, please send me a message via Twitter (here or here).
↓ I am participating in the blog ranking. I would be very much encouraged if you click on the link.
Thank you for your support!



人気ブログランキング