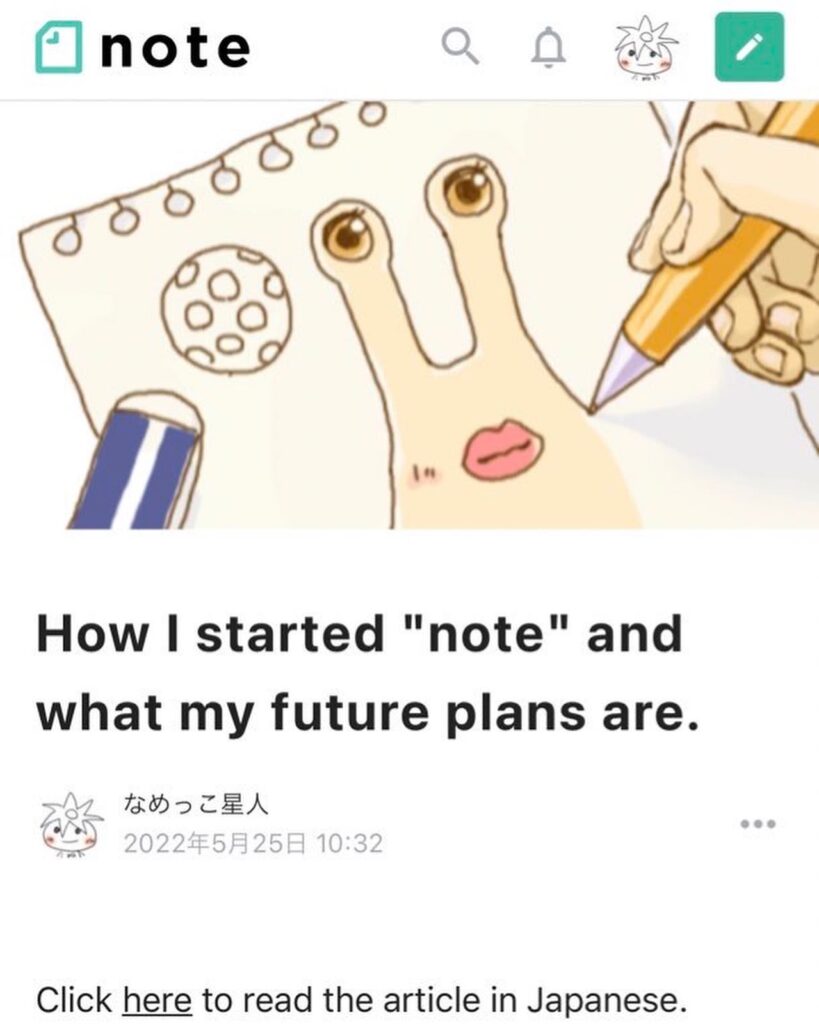 英語で読めないよ!とよく言われるのですが、
ラブミーのNFTイラストを掲載する際に英文を書いていたこともあり、最近は食関係の活動でも少しずつ英文を書くようになりました。
文章表現が不自然だったり読みにくい部分も恐らくあると思います。
仮に完璧に近い英文が書けたとしても、実際に読んでくださる人は少ないかと思います。
ですが、日本語が苦手な人にも自分の想いやメッセージを伝えたくてチャレンジを始めました。
I can't read in English! I am often told…
I wrote English text for the publication of Loveme's NFT illustrations, and because of this influence, I have recently started to write a little English text for food-related activities as well.
I am sure that there are parts of my writing that are unnatural or difficult to read.
Even if I could write near-perfect English, I doubt that many people would actually read it.
However, I started this challenge because I wanted to convey my thoughts and message to people who are not good at Japanese.
【 現在掲載中の英文記事一覧】List of articles currently published in English
Self-introduction, biography, blog, social networking sites, etc.
How I started "note" and what my future plans are.
Partial move of rice cooker recipes and notice of independence
●Super easy cheesecake baked in a rice cooker●
●Biscuit fluffy sponge cake in rice cooker●
●Additional notes on rice cooker recipes in general●
●Rice cooker sponge cake details supplementary memo●
英語版のクックパッドも始めました。
既に公式アカウントから翻訳されたレシピが公開されているのは知っているのですが、自分でアカウントを作ってレシピの作成と公開を始めました。
(上の画像はパソコン版、下の画像はスマホ版)
I have also started an English version of Cookpad.
I know that translated recipes are already available from the official account, but I created my own account and started creating and publishing recipes myself.
(The image above is the computer version, the image below is the smartphone version.)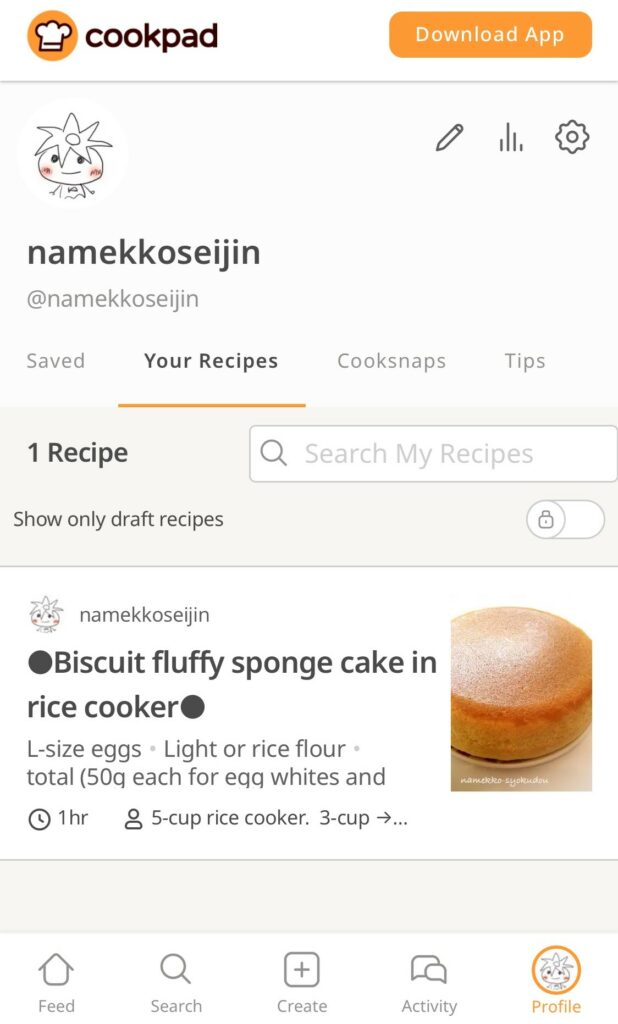 英語版は日本版とは違って余計な広告表示も無く、すっきりしたデザインになっています。
英文は文字そのものが美しい。
Unlike the Japanese version, there are no superfluous advertisements displayed, and the design is clean.
English writing is beautiful in the form of the letters themselves.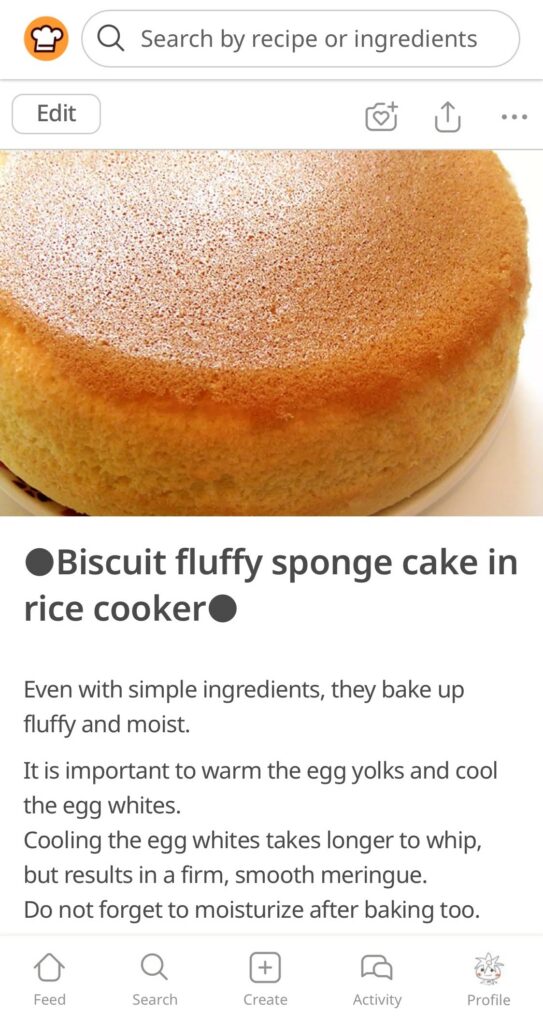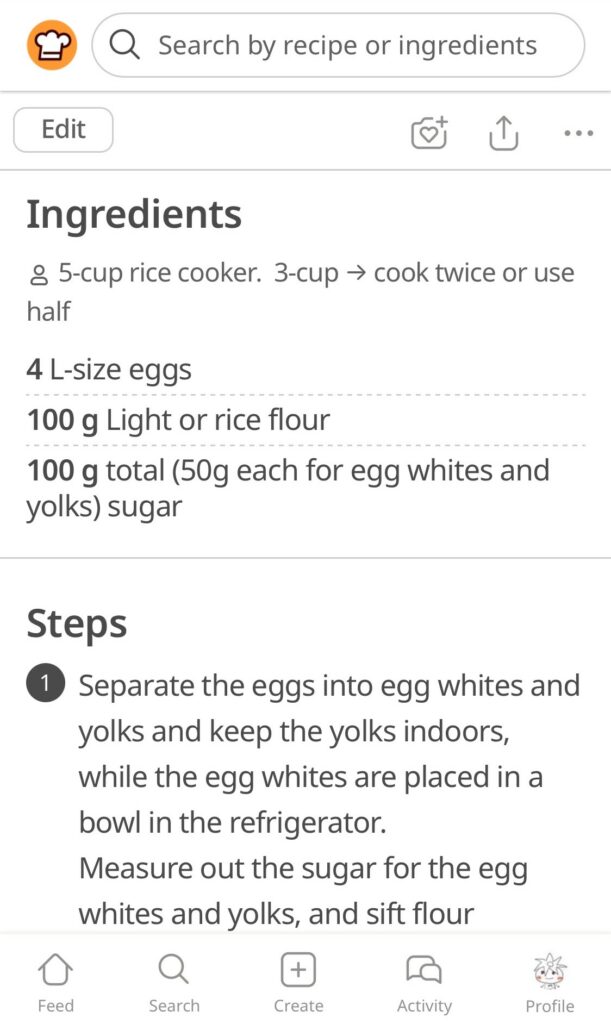 材料表示は、分量が先で材料名は後半が基本。
行程写真は複数枚登録可能で、文字数制限は緩いので長い詳細説明も書きやすいです。
Ingredients are basically listed with the quantity first and the name of the ingredient second.
Multiple photos can be registered for each step, and the character limit is loose, making it easy to write long detailed descriptions.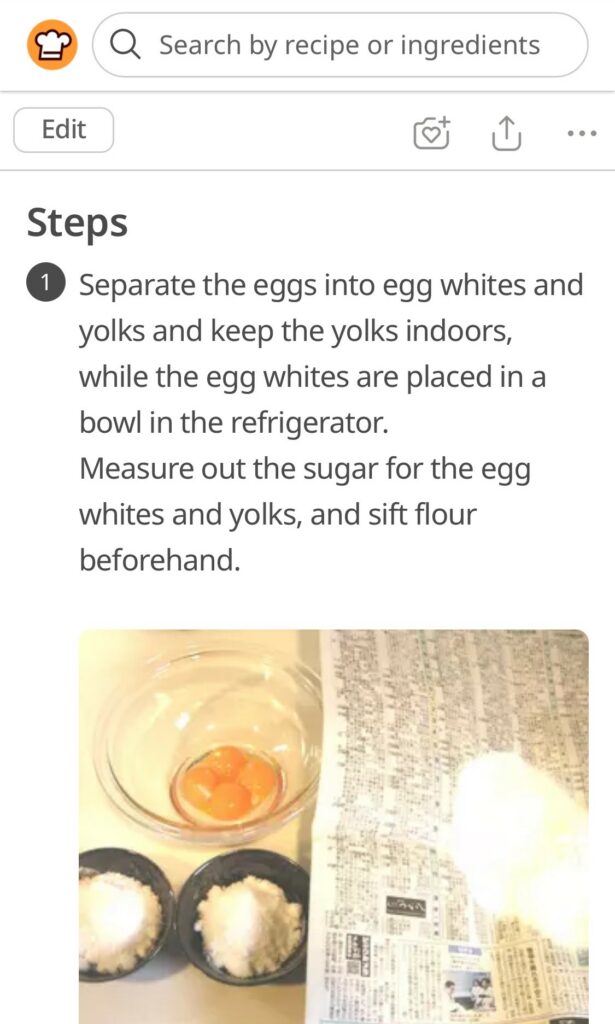 リンクが張れなかったり改行しにくかったり、面倒な部分もありました。
ブログのように自由なレイアウトもできないので、そのあたりは日本版とあまりかわらないかも。
でも、海外に住んでいる人が投稿しているレシピを多数見ることができるので、非常に勉強になります。
↓ 英語版クックパッドのマイページはこちらよりご覧いただけます
https://cookpad.com/us/users/36787745
There were some troublesome parts, such as not being able to create links and line breaks.
It is not possible to create a free layout like a blog, so it may not be so different from the Japanese version in that respect.
However, you can see many recipes posted by people living overseas, so it is very informative.
↓ You can see the English version of Cookpad's My Page from here
https://cookpad.com/us/users/36787745
英語の記事やレシピを書くことで自分に何ができるのか
まだ自分でもよく解っていません。
日本で普通に生活している中では英語を使う機会も少ないですし、求められることも少ないです。
ただ、長い目で見たときに、
これはあくまでも例え話なのですが…
私のレシピで普段作ってくださっている人が、留学や国際結婚などをきっかけに海外の人と作るようになったとしたら、自動翻訳ではなく、私自身が書いたレシピをお互いにシェアできたら便利だろうな、とか
戦争などの理由で海外から日本へ来て、日本の食材とレシピで料理を始めたけれど、日本語で書かれたレシピばかりで解りにくいと感じている人もいるだろうな、とか
最近色々思うようになって、自分にできそうだったらやってみようかなと思ったのです。
とても些細なことなので本当にやる意味があるのかと問われると返答に困りますが、誰かのために自分ができることを少しずつ進めていきたいなと考えています。
What can I do for myself by writing articles and recipes in English?
I don't quite understand it myself at this point.
In my normal life in Japan, I don't have many opportunities to use English, and I am rarely needed.
Just in the long run.
This is just an analogy…
If the people who usually cook with my recipes started to cook with people overseas after studying abroad or getting married internationally, it would be convenient if we could share each other's recipes written by myself instead of automatic translation… or something like that.
Or, I am sure there are people who came to Japan from overseas due to war or other reasons, and started cooking with Japanese ingredients and recipes, but found it difficult to understand recipes written only in Japanese… or something like that.
I have been thinking a lot about such things lately, and I thought if I could do it, I would try it.
It is a very trivial matter, so I am at a loss to answer the question of whether it is really worth doing, but I would like to do what I can do for someone else, little by little, to make progress.
〔本日も訪問ありがとうございます〕
何かございましたら、TwitterのDM(こちらかこちら)へお願い致します。
↓ ブログランキングに参加中。クリックしていただけると励みになります。
いつも応援ありがとうございます!
Thank you for visiting me today!
If you have any suggestions, please send me a message via Twitter (here or here).
↓ I am participating in the blog ranking. I would be very much encouraged if you click on the link.
Thank you for your support!



人気ブログランキング